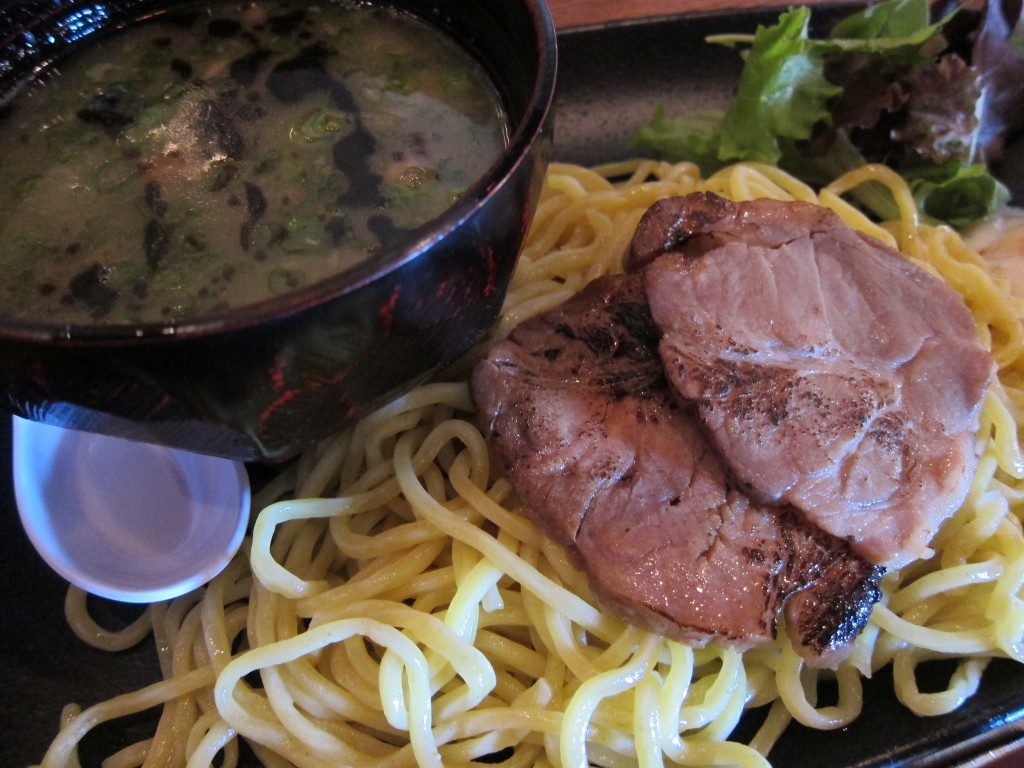 Ikemen is the coolest little ramen joint in the city. With the motto "No Ramen, No Life," this funky, diminutive Japanese eatery plays mid-century jazz, has a staff that wears red and black fedoras, and serves amazing and innovative food. Ikemen, which literally means "very handsome man" is the creation of Shigetoshi Nakamura, a well-known ramen master in Japan.
The speciality of the house is Tsukemen, which Nakamura calls "Dip Ramen." Tsukemen is the hottest food trend to hit LA in the past year and is essentially a bowl of hot, super-rich, concentrated broth (which Nakamura refers to as "Tonkotsu Au Jus") and a plate of lukewarm, thick and chewy noodles, as well as slices of roast pork or grilled chicken. You eat the noodles a couple strands at a time after dipping them in the broth with your chopsticks. After you've polished off your noodles, you can ask your server to add a little hot water to the remaining broth so that it is converted into more of a soup than a sauce. Ikemen serves several different versions of its Dip Ramen, including the Zebra Dip with green onions and stripes of garlic oil, the Ghost Buster Dip with cream, mushrooms, truffle oil and marshmallows, and my favorite, the Italian-inspired Johnny Dip with tomatoes and basil.
Ikemen also serves excellent traditional ramen in many varieties, including a vegetarian one and a "Special Premium Tonkatsu Ramen," of which only ten servings are prepared each day. In addition, the menu features a fun and eclectic mix of appetizers. My favorites are the Dragon Balls (fried octopus "takoyaki"), sliders served on bao buns, French fries with truffle oil and parmesan cheese and mini black pork sausages. Unfortunately, for now, they don't serve alcohol. I suggest that after dinner at Ikemen, you head over to nearby Rocket Video and rent one of director Seijun Suzuki's ultra-hip 1960's Japanese Mafia films such as Tokyo Drifter or Branded to Kill. It will be the perfect complement to your uber-cool meal.
Ikemen is located at 1655 N. La Brea Ave., Los Angeles (in Hollywood). It's a cash-only establishment. UPDATE: Ikemen has opened a second location Downtown in Little Tokyo at 123 Astronaut E S Onizuka St. (Weller Court Shopping Center), Los Angeles. Same great dishes as Hollywood and a really cool interior.