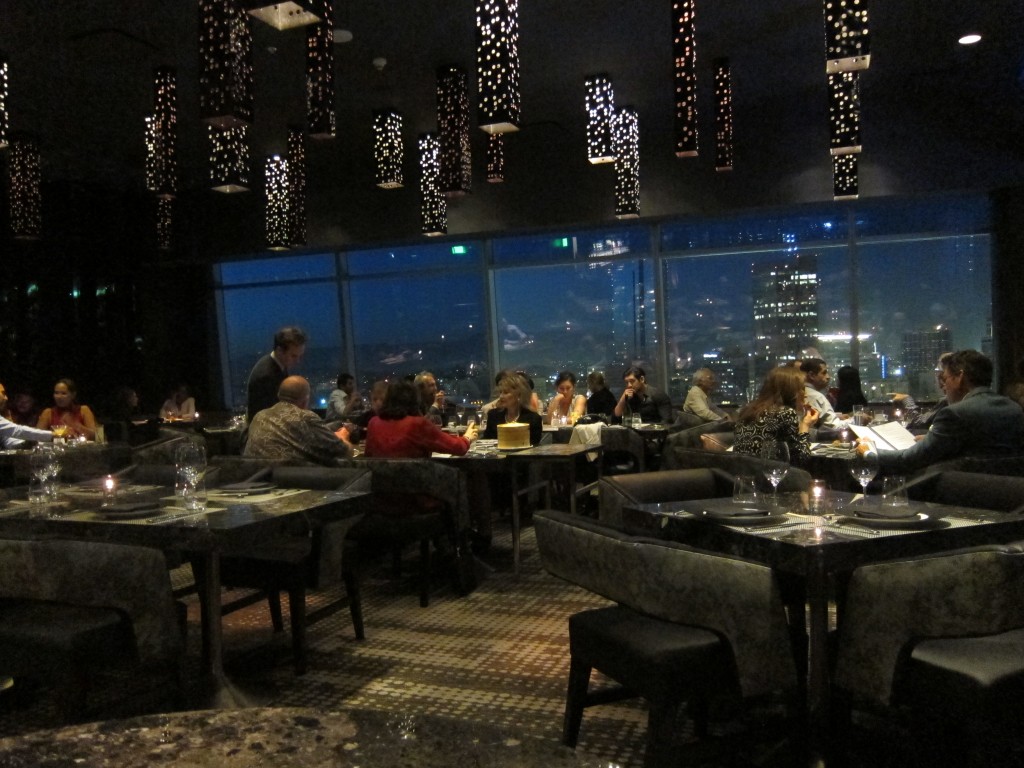 I was a fan of Wolfgang Puck and his restaurants, Spago and Chinois on Main, in the '80s when they were at the forefront of innovate upscale cuisine. However, with everything that is going on food-wise these days, I think of Puck's cuisine as dated and not particularly interesting or exciting. Nevertheless, I was curious and hopeful about WP24, Puck's fancy modern Chinese restaurant that opened last year on the 24th floor of the Ritz Carlton in LA Live, and decided to take my wife there for our anniversary. The views at night from WP24, which are of the illuminated skyscrapers of Downtown, are perhaps the best of any restaurant in the city. But while I loved the spectacular views, I cannot say the same of the restaurant as a whole. WP24 unfortunately reminded me of many of the upscale restaurants I've eaten at in Las Vegas hotels — incredibly overpriced, conservative and food that is generally OK, but nothing to write home about.
While WP24 formerly offered both an a la carte menu, as well as 6 and 9 course tasting menus (which I would have preferred), the menu now consists of only a 3 or 4 course prix fixe dinner with several choices for each course and some optional side dishes. With drinks (cocktails are a pricey $16 a pop), you're looking at a cost of around $150-$225 per person, a lot for Chinese food! Most of the appetizers are dim sum and we ordered an assortment of 5 different dumplings plus an additional order of Steamed Scallop and Shrimp Sui Mai. The Dim Sum was all very delicious except for the Sui Mai which tasted fishy and not fresh at all. As an entree, my wife got the Maine Black Cod Broiled with Chinese Ginseng Honey with Roasted Black Sesame Vinaigrette and Chili-Orange Noodles. The noodles were way too sweet but otherwise the dish was OK. I ordered WP24's signature dish, the "Angry Lobster," with Spicy Szechuan Chilies, Fried Garlic, Scallions and Black Dust. I love spicy, but found the sauce way too overpowering for something as delicious as lobster and it upset my usually iron-clad stomach later that night.
The desserts by pastry chef Sally Camacho (who was a finalist on Top Chef Just Desserts last season) were the most creative part of the meal, but, in terms of taste, did not blow me away. At the end of the dinner, I felt as if I should be taking the elevator down to the casino to play blackjack and craps. If I was actually in Vegas maybe I could have won a little money to offset the price of dinner.
WP24 is located at 900 W. Olympic Blvd, Los Angeles (Downtown). If you enjoy Consuming LA, please subscribe, like me on facebook and/or follow me on twitter at the top right of this page. And please forward to your friends!