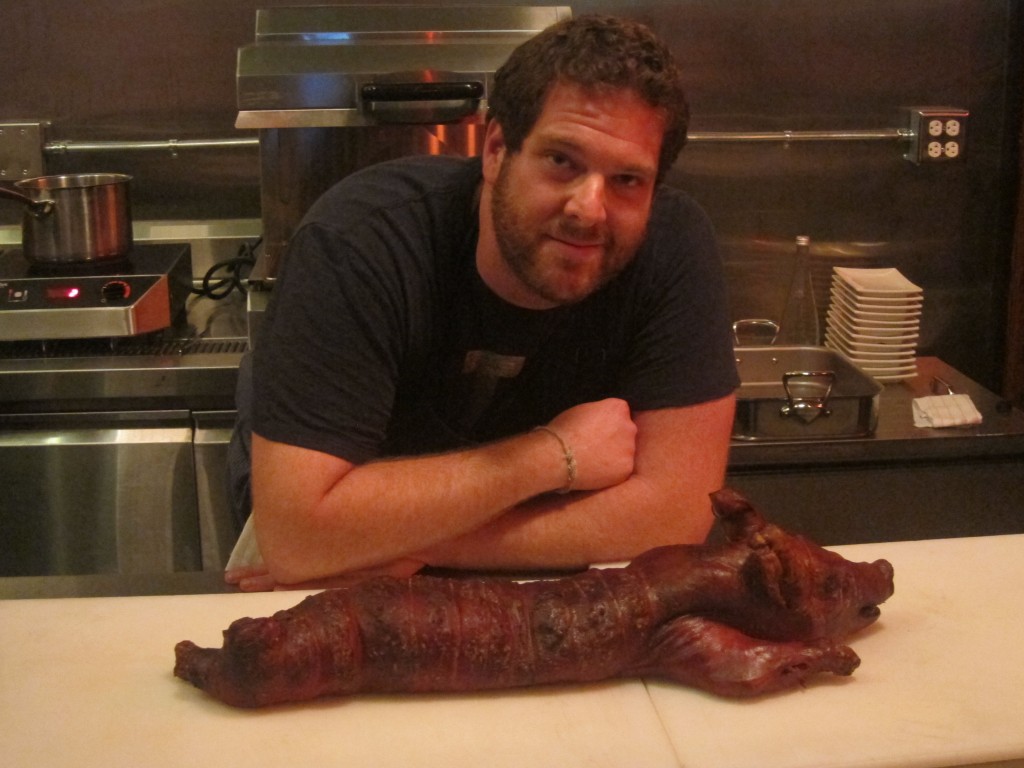 Something very cool and collegiate is going on downtown at UMAMIcatessen. There's a twelve-seat bar in the back of the restaurant that has been converted into "The Residency." Here, visiting chefs create intimate and unique themed dinners. The latest is the Dead Chefs pop-up series presented by talented chef Micah Wexler (of the late great Mezze) and his partner Mike Kassar. Each meal is five courses, with optional wine pairing, inspired by the cuisine of a deceased chef. Wexler precedes each course with information about the legendary chef and an explanation of the dish you are about to consume. It's kind of like that fun seminar that everyone wanted to take when you were in college with the cool visiting professor.
I recently attended one of these dinners; an homage to Maestro Martino di Como, a 15th-Century Italian culinarian who was the Western World's first celebrity chef. The meal (pictured below) was molto buono and its highlight was a whole roasted suckling pig that Wexler carved table-side. Future Dead Chefs honored will include Julia Child, Jean-Louis Palladin, Sylvia Woods (the Queen of Soul Food) and Chen Kenmin (the father of Chinese Sichuan cooking).
The Residency at UMAMIcatessen is located at 852 S. Broadway, Los Angeles (Downtown). The Dead Chef dinners are at 7:15 and 9:00 every Thursday night until August 15th. Each dinner is $60 per person plus $30 for optional wine pairing.