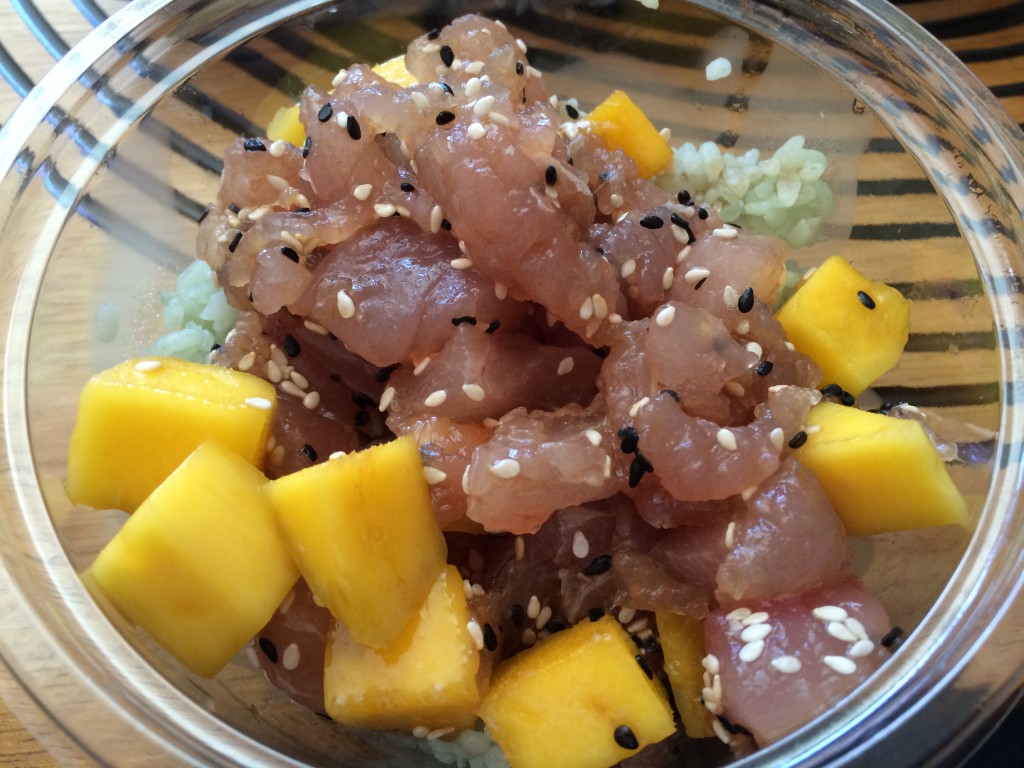 Swimsuit season is just around the corner. Time for spinning, pilates, cross-fit and the sad reality that getting in shape is going to involve some serious restraint in feasting for the next month or two. Fortunately, LA's hottest food trend is a great way to eat healthy and ultimately shed some LB's.
Hawaiian poké joints are all the rage right now in Los Angeles. For those unfamiliar with this Polynesian delicacy, poké is a raw salad usually made with fish. My favorite new poké place is Sweetfin Poké which opened in Santa Monica a few weeks ago. It's a fast food concept specializing in bowls of super fresh, cubed and sauced ahi, albacore, snapper and salmon prepared by Top Chef alum Dakota Weiss.
You can choose from one of Sweetfin Poké's signature bowls or have them build you a custom version from an extensive list of ingredients. My favorite signature bowls are the Spicy Tuna Bowl with Creamy Togarashi Sauce, Hijiki and Avocado, and the Mango Albacore Bowl with Ponzu-Lime Sauce, Macadamia Nuts and Ginger. Each concoction is served on top of your choice of Jasmine Rice, Citrus-Kale Salad, or my favorite — super-low carb Kelp Noodles and Cucumber Slaw.
I recommend enjoying these Hawaiian delicacies with one of the restaurant's housemade unsweetened infused ice teas or coconut waters in flavors such as Banana Date, Orange Mint, Guava and Coconut Basil with Lemongrass. Their crispy taro chips are not going to aid in slimming your waistline, but are delicious nonetheless.
Sweetfin Poké is located at 829 Broadway in Santa Monica.