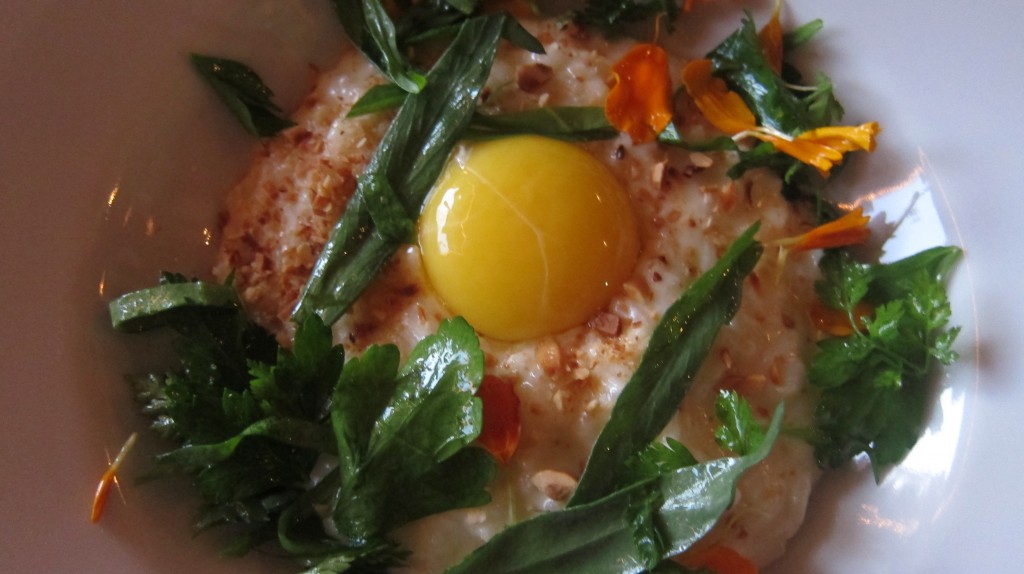 Temporary "pop-up" restaurants have been popping up all over Los Angeles for the past couple of years. But the ultimate pop-up is LudoBites, the creation of iconoclastic bad boy chef Ludo Lefebvre and his wife Krissy. Now in its seventh incarnation, LudoBites, which chef Ludo describes as a "touring restaurant" or a "travelling circus," is the hottest ticket in town. LudoBites 7.0 is open only for dinner and only from August 3 to September 10, when the downtown sandwich shop Gram & Papa's is transformed into one of the most sought after dining experiences in LA. When reservations became available online on Bastille Day for its 6 week run, the restaurant became completely booked in less than 60 seconds.
The food at LudoBites is exciting and across-the-board excellent. The menu consists of complex, modern and often playful takes on French cuisine (Ludo was previously the executive Chef of L'Orangerie and Bastide), but with some regional American influences, which are no doubt the result of Ludo's experiences traveling the country while taping his new Sundance Channel reality show Ludo Bites America. For an appetizer, I recommend the tasty Onion Tart with Bottarga (dried tuna roe). In terms of entrees, I loved the Epoisse Cheese Risotto with Hazelnut, Egg Yolk and Herb Salad pictured above (you break the yolk and mix it into the risotto); so delicious! The Duck with Cherry, Spicy Saucisse, Beets and Radish is probably the most beautifully plated dish I have ever been served; the brightly colored disks of beets and radishes with drops of oil on top reminded me of little colored umbrellas much like the opening scene of one of my favorite films, The Umbrellas of Cherbourg. But if there was one dish that stood out for me among the others, it was the Foie Gras "French Dim Sum" with Crispy Kimchi and Sake-Black Truffle Cream. It was amazing! My favorite dessert was the Smoked Vanilla Bacon Creme Brulee, which was served with a cup of Melon Soup.
If you don't have a reservation, you could ask to be placed on the waiting list in case there is a cancellation or you can try your luck as a walk-in. Regardless, make sure to sign up on their website for updates on future incarnations of the restaurant. LudoBites is currently located at 227 East 9th Street in downtown Los Angeles.