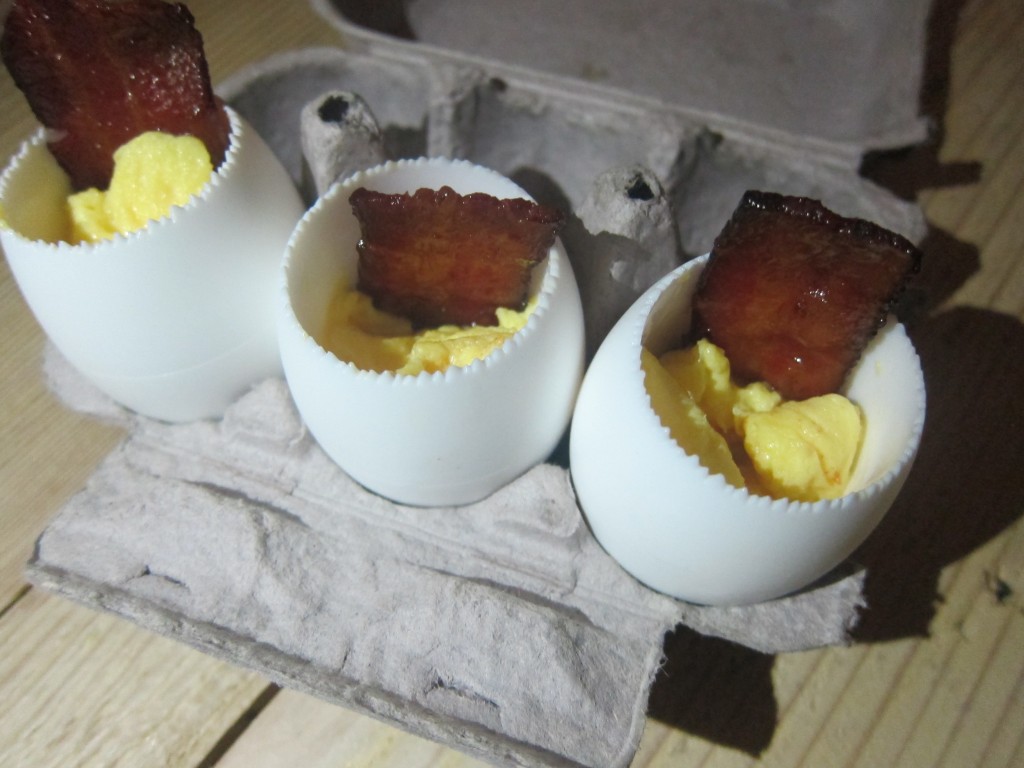 I feel as if I'm channeling my inner-Don Draper as I down cocktails and feast on Clams Casino in the Mid-Century Modern digs of Littlefork, a great new restaurant that opened last month in Hollywood. Although its name sounds like a small town in Utah or the moniker bestowed upon some unfortunate child in Indian Guides, "Littlefork" actually refers to the diminutive three-pronged cocktail fork used to eat shellfish. It's part of the restaurant's theme; innovative and fun dishes inspired by the Atlantic Northeast, especially Boston and Montreal.
Chef Jason Travi's menu consists of mostly small plates, with a strong emphasis on seafood. The aforementioned Clams Casino with Cracker Stuffing and Bacon is an absolute must-have, as is the Smoked Meats Poutine with Curds and Gravy. The Portuguese Mussels with Linguica, Beer and Chickpeas is one of the best mussel dishes I have ever eaten. I also recommend the Maple Eggs with Crispy Bacon (pictured above), the Clam Cakes with House Tartar Sauce, and the Apple Cider Braised Brussels Sprouts with Sage and Crispy Chicken Skin.
I'm hoping eventually they'll be adding some version of fried whole-belly Ipswich clams to the menu, as well as my favorite New England dessert, Indian pudding with molasses and cornmeal. Until that happens, I recommend ending your meal with Littlefork's Whoopie Pies with Marshmallow Fluff, although I'm pretty sure that's not something Don Draper would eat. You'll be channeling your inner-Sally Draper at that point.
Littlefork is located at 1600 Wilcox Ave., Hollywood. UPDATE: GOOD THINGS DON'T LAST FOREVER. LITTLEFORK IS CLOSED.