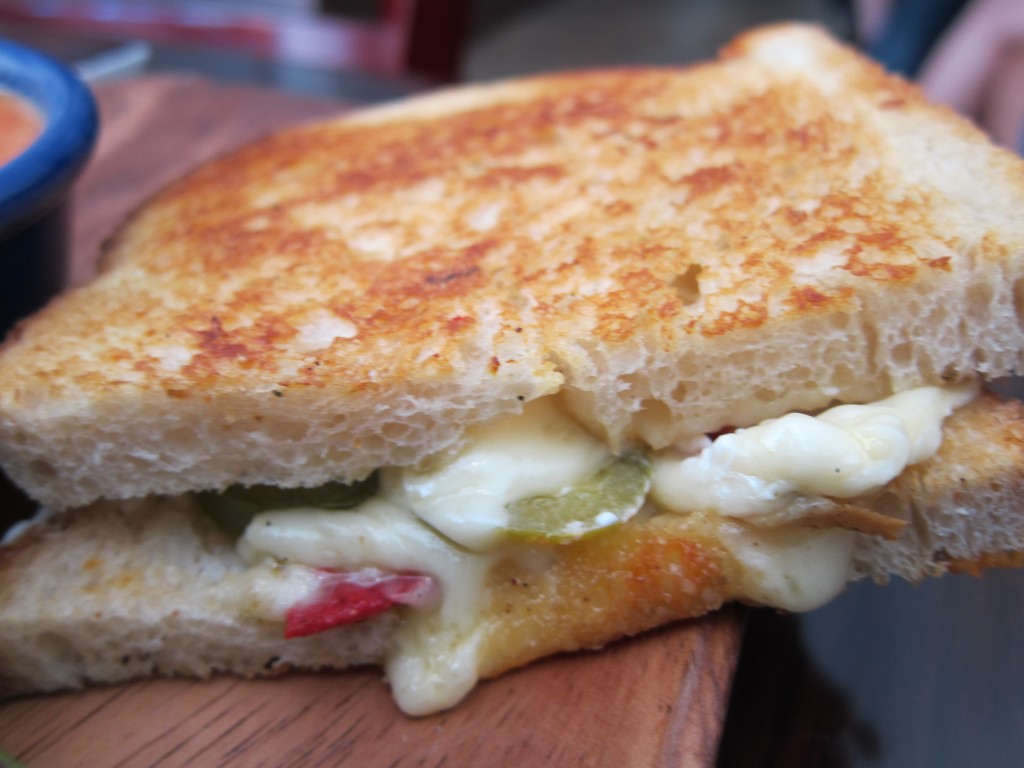 This place is a nice find. Named after the 16th Century playwright/poet who wrote that "the moon is made of green cheese," Heywood is a cool little Silverlake joint that essentially serves only one thing: grilled cheese sandwiches accompanied by tomato soup and salad. For so many of us, grilled cheese and tomato soup is a childhood favorite; the ultimate comfort food prepared lovingly for us by our mothers, especially on a cold or rainy day. No offense to your mother, but the sandwiches and soup at Heywood are better.
The grilled cheese sandwiches here are gourmet versions of the classic. You can build your own and choose from ten different cheeses (including an aged English cheddar, a triple cream French brie, and a cotswold), five different kinds of bread and more than a dozen add-ons and artisan spreads including bacon, maple onion confit and raspberry habanero jam. Or you can choose from one of the pre-designed models such as the Tres Truffle Shuffle (country white bread, Appenzeller Swiss cheese, aged English cheddar, Pointe Reyes blue cheese and a dash of truffle salt) or my favorite, the Muy Caliente (fontina and spicy jack cheeses melted on top of sliced jalapenos, fresh cream cheese and crunchy tortilla strips on sourdough bread). Not to be relegated to the role of mere sidekick, the tomato bisque at Heywood is the best tomato soup I have ever had; no exaggeration. It's perfectly spiced and has small bits of roasted tomatoes and peppers in it. Every sandwich comes with a tiny bowl of this soup, as well as a side salad. They also offer vintage sodas and a few desserts including a decadent S'Mores Bar by Motherfudger Fudge.
One word of warning: Heywood is a tiny place and it can be hard to get a table at lunchtime. It would be great if they installed a counter for additional seating. It's cool that they're open late (until 3am on Friday and Saturday) so you can hit them up after a concert or a night of hipster bar hopping in Silverlake. Would your mom grill you a sandwich so late at night? I don't think so.
Heywood is located at 3337 1/2 W Sunset Blvd, Los Angeles (in Silverlake). UPDATE: Bad news grilled cheese lovers. Heywood is closed.