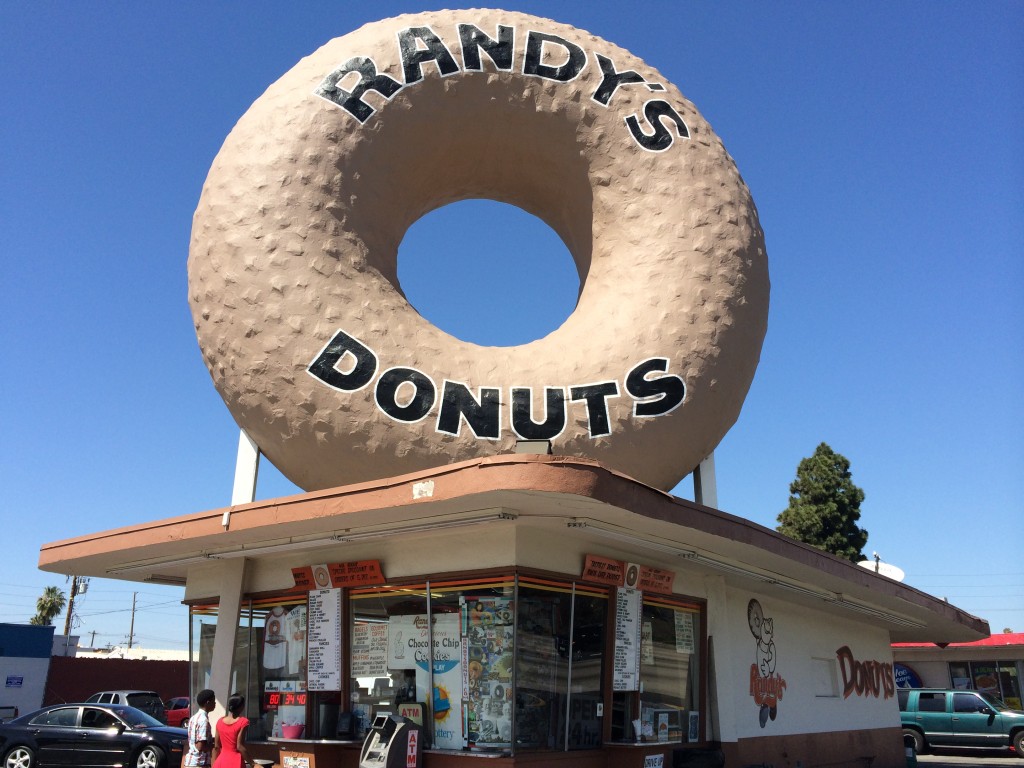 Loved by cops, Homer Simpson and pretty much everyone else, donuts are entering a renaissance here in Los Angeles. New donut shops are regularly popping up and offering high-end artisan versions of the traditional fried ring-shaped cakes. At the same time, long established shops have been expanding their menus and offering renditions of the latest donut crazes such as maple bacon or the croissant-donut hybrid known as a "cronut." Excited by these dynamic donut developments, I set out against the advice of my wife and doctor on a mission to find the best donut shops in LA. Here are the winners:
1. The Donut Man
(915 E Rte 66, Glendora). It's not only the best donut shop in LA, but probably in the top five for the whole country. Located in Glendora on Historic Route 66, it's well worth the long car trip, which I like to refer to as a
"Pilgrimage to the Hole-y Land,"
especially from February until Mid-September when they sell their famous fresh strawberry and/or fresh peach stuffed donuts.
2. Stan's Donuts
(10948 Weyburn Ave, Los Angeles in Westwood). Since I'm a UCLA graduate, this Westwood mainstay is a sentimental favorite, but it's hard to imagine anyone not falling in love with these donuts. I'm obsessed with the glazed ones generously stuffed with peanut butter and either fresh bananas or jelly.
3. Primo's Donuts
(2918 Sawtelle Blvd, Los Angeles in West LA). This little old-school shop on the Westside has sold consistently awesome donuts since 1956. Everything here is super fresh (it helps that Primo's is only open in the morning and afternoon) and are made from super high-quality ingredients. The glazed Buttermilk Bars, which are slightly crunchy on the outside and moist on the inside, are not to be missed.
4. Donut Friend
(5107 York Blvd, Los Angeles in Highland Park). Located on newly gentrified, hipster-laden York Boulevard, Donut Friend is a place to unleash your inner pastry chef. You can design your own custom donut creation by selecting a base donut and picking fillings or toppings such as Nutella, maple or chocolate glaze, fresh fruit, chopped nuts, crushed Oreo cookies, bacon and even Sriacha!
5. Bob's Coffee & Doughnuts
(6333 W 3rd St #450, Los Angeles in the Original Farmers Market). Bob's is an LA instituion, and for good reason. They sell some of the yummiest donuts in town. I especially recommend their warm and uber-fresh Apple Fritters and, if you're a chocolate lover, you can't go wrong with one of their Chocolate Glazed Raised Donuts.
6. Glazed Donut Bistro
(8807 Santa Monica Blvd, West Hollywood). This brand spanking new eatery is dedicated to creative gourmet donut concoctions for grownups, such as the "S'more Please" with chocolate ganache, crumbled graham cracker streusel and house-made marshmallows, and the "Mambo Italiano" with pistachio glaze, homemade ricotta cheese, chocolate curls and a maraschino cherry. They also offer savory donut treats.
UPDATE: Glazed Donut Bistro is closed. Selling donuts in fitness-conscious Boys-town was maybe not such a great idea.
7. Krispy Kreme Doughnuts
(4034 Crenshaw Blvd, Los Angeles in South Los Angeles). Yes, it's a chain, but it's better than 90% of all donut places in town. The Original Glazed can't be beat. The freshest ones come from the South Los Angeles location where they are made right on the premises while you watch.
8. Kettle Glazed
(6211 Franklin Ave, Los Angeles in Hollywood). Another new kid on the block, Kettle Glazed is a purveyor of small batch artisan donuts. Daily offerings may include Lemon-Blueberry, Vanilla Bean Glazed and different types of Cronuts. They also have gluten-free options.
9. DK's Donuts & Bakery
(1614 Santa Monica Blvd, Santa Monica). This family run shop might have the biggest variety of donuts in the city. Pretty much all donut trends can be found here including several types of Cronut knockoffs. But they also create new varieties as well, including three types of donuts made with ube, a purple yam which is extremely popular in the Philippines.
10. S K's Donuts & Croissants
(5850 W 3rd St, Los Angeles in Mid-City). This 24-hour joint produces a bevy of tasty treats. Most of the donuts are traditional but some are modern such as "Skronuts" (their version of Cronuts) and a not-to-be-missed Red Velvet Donut.
11. California Donuts
(3540 W 3rd St, Los Angeles in Koreatown). This popular K-town stand is open all night and offers a pretty nice variety. It's perfect for capping off a nice meal of Korean BBQ or a bowl of Spicy Crab Soup with a sweet treat.
12. Randy's Donuts
(805 W Manchester Blvd, Inglewood). Located near LAX, Randy's is one of the most iconic landmarks in the city. The 45-foot giant donut-shaped sign on its roof has appeared in countless movies and beckons all who pass by to stop and purchase some very tasty donuts. The assortment here is all traditional, including cake, raised, jelly and old fashioned varieties, as well as apple fritters and bear claws.
13. Doughnut Hut
(2025 W Magnolia Blvd, Burbank). Surprisingly, there are not many exceptional donut places in the Valley. But I do like Doughnut Hut in Burbank, not only for their traditional donuts (which I recommend purchasing and consuming early in the day) but for their cool retro-looking red and yellow hut. My favorite donuts here are the crumb cake and orange glazed ones.
Honorable Mention: Donut Snob
(www.thedonutsnob.com). It's not a brick and mortar shop, so it doesn't qualify for my list. However, this company that delivers pricy but scrumptious gourmet donuts (which are similar to those at Glazed Donut Bistro) to your home or work, is worth an honorable mention. You can also buy them at Go Get Em Tiger, a popular coffee bar on Larchmont.
If you enjoy Consuming LA, please subscribe, like me on facebook, and/or follow me on twitter at the top right of this page. You can also find me on Instagram @ConsumingLA. And please forward to your friends!