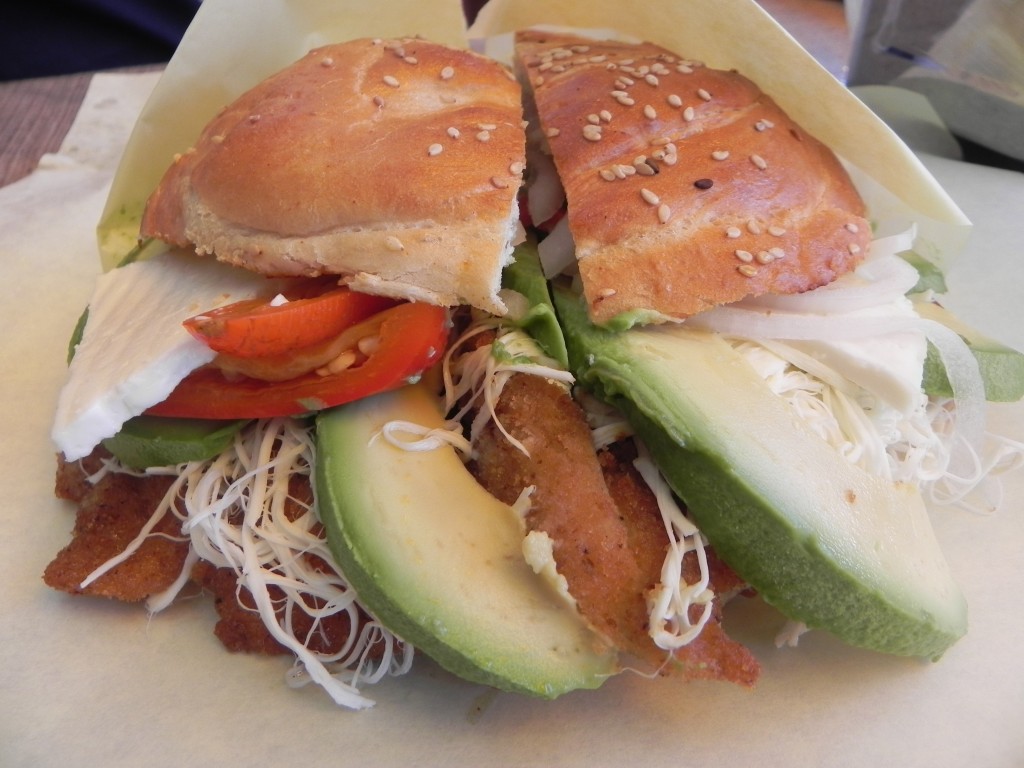 I first heard about Cemitas from a foodie friend in New York. They're a yummy kind of Mexican sandwich which originated in the city of Puebla and have recently gained some popularity in the U.S. They are distinguished from Mexican tortas by the fluffy sesame-seeded egg roll and typically include a combination of fresh avocado, Mexican white cheese, onions and red salsa, in addition to a meat filling. The most popular meat filling is Beef Milanesa, a piece of beef that has been pounded thin, breaded and then fried to a golden crisp. My favorite cemitas joint in town is Cemitas y Clayudas Pal Cabron (which I simply refer to as Pal Cabron) in Koreatown. Pal Cabron serves many delicious varities of cemitas including Beef Milanesa, seasoned lamb, chorizo, ham, black mole with shredded chicken breast, spicy shredded pork loin and a vegetarian cemita. The bread used by Pal Cabron, as well as the vegetables in their cemitas, are very fresh and the cheese they use, a Oaxacan string cheese, is unbelievably good.
As you can tell from the full name of the restaurant, they also specialize here in clayudas (or tlayudas), crispy flat breads which are a very popular street food in Oaxaca. Pal Cabron makes their Clayudas with tortillas imported from Oaxaca and covers them with a pork and black bean paste, Oaxacan cheese and other toppings of your choice before baking them into a hot crispy treat; they're essentially Oaxacan pizzas. The Clayudas are good and if you're hungry I recommend getting one as an appetizer, but the real star of the show here is the cemita. Pal Cabron is next door to a Oaxacan juice bar where you can buy a fresh mango or pineapple blossom juice to wash down your cemita and clayuda. Happy Cinco de Mayo!
Cemitas y Clayudas Pal Cabron is located at 3337 1/2 W 8th St, Los Angeles (in Koreatown).
UPDATE: SAD TO SAY, PAL CABRON IS NOW CLOSED. I WILL BE ON THE HUNT FOR A NEW PLACE TO GET CEMITAS. PLEASE EMAIL ME WITH ANY SUGGESTIONS.