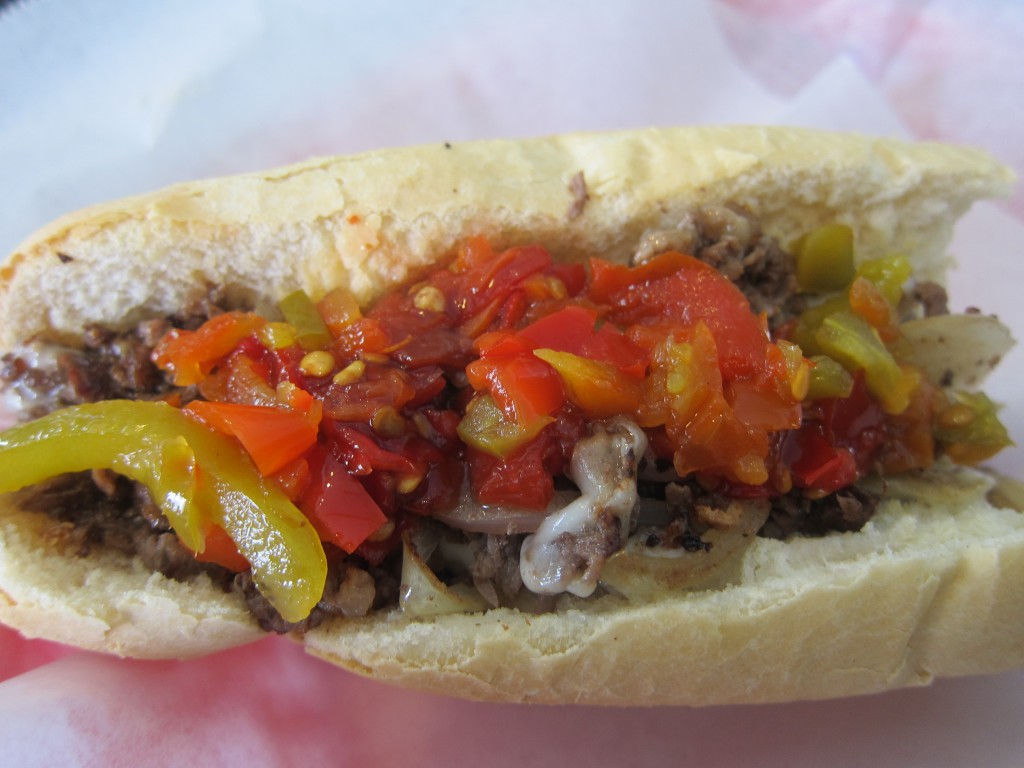 Although I grew up in California, I was born in Philadelphia. Other things that originated in Philadelphia include the Declaration of Independence, the Post Office, the Stock Exchange and Hall & Oates. But Philadelphia's greatest contribution may just be the cheesesteak. Seasoned and thinly sliced beef, cheese (Provolone, American or Whiz), onions and occasionally peppers or mushrooms, all grilled to perfection and served on a warm soft roll… Who doesn't like a good cheesesteak?
While the best are found in Philly, there are some very tasty cheesesteaks here in LA and I've been on a mission for the past couple months to find the best ones this city has to offer. Although I evaluated bread, meat and cheese, there was another essential element that was key to making the grade here. Philadelphia is the City of Brotherly Love and any great cheesesteak establishment must make you feel at home and provide super friendly and warm service; it's the Philadelphia way. Of the twenty or so cheesesteak eateries that I visited on my quest, here are my top five favorites:
1. Figueroa Philly Cheese Steak (3844 S. Figueroa in Downtown) This newcomer has the best service and awesome cheesesteaks. The Amoroso rolls and marinated rib eye are imported from Philadelphia. Their one non-traditional, California-esque twist is that one of your cheese options is nacho jalapeno. I loved it!
2. The Shack (2518 Wilshire Blvd., Santa Monica) Only the Santa Monica location, which is owned by a Philadelphian, of this venerable LA burger joint serves cheesesteaks. The meat is perfectly seasoned and served on Amoroso rolls. They are really, really good.
3. Philly West Bar & Grill (1870 Westwood Blvd in Westwood) These are Allentown-style cheesesteaks and are made with a bit of marinara sauce. The bread is incredibly delicious. Instead of Amoroso rolls shipped frozen from Philadelphia, they use fresh baked French rolls from a local bakery. A great place to watch Phillies or Eagles games.
4. Philly's Best (17200 Ventura Blvd. in Encino, 1421 W. Olive St. in Burbank and other locations) This successful chain knows what they're doing. They use Amoroso rolls from Philly and are one of the few places that offer Cheese Whiz. They also have Philadelphia-style Hoagies, Wise potato chips and Tastykakes.
5. Soda Pop's (349 N. La Cienega in Mid-City) The owner is from Boston and refers to his cheesesteaks as "Steak Bombs," but don't hold that against him. These are really good cheesesteaks served with housemade potato chips. Plus 100 different specialty sodas like Blueberry Birch Beer and Pumpkin Pie Soda.
Special Mention: Philly Cheesesteak at The Bazaar (465 La Cienega, Mid-City) It wouldn't be fair to compare this molecular gastronomy version with the others, but it should be noted that this specialty of Jose Andres is insanely good. Crispy air-filled bread filled with aged Cheddar sauce and topped with Kobe beef.
Tastykakes! Several cheesesteak places sell Tastykakes, delicious snack cakes which are incredibly popular in Philadelphia. Philly's Best has the largest variety. My favorites are Butterscotch Krimpets, Peanut Butter Kandy Kakes and Koffee Kake Cupcakes.
I will be discussing cheesesteaks on KABC Talk Radio 790 this Sunday night at 8:00 on Dining with Dills. If you enjoy Consuming LA, please subscribe, like me on Facebook and/or follow me on twitter at the top right of this page. And please forward to your friends!