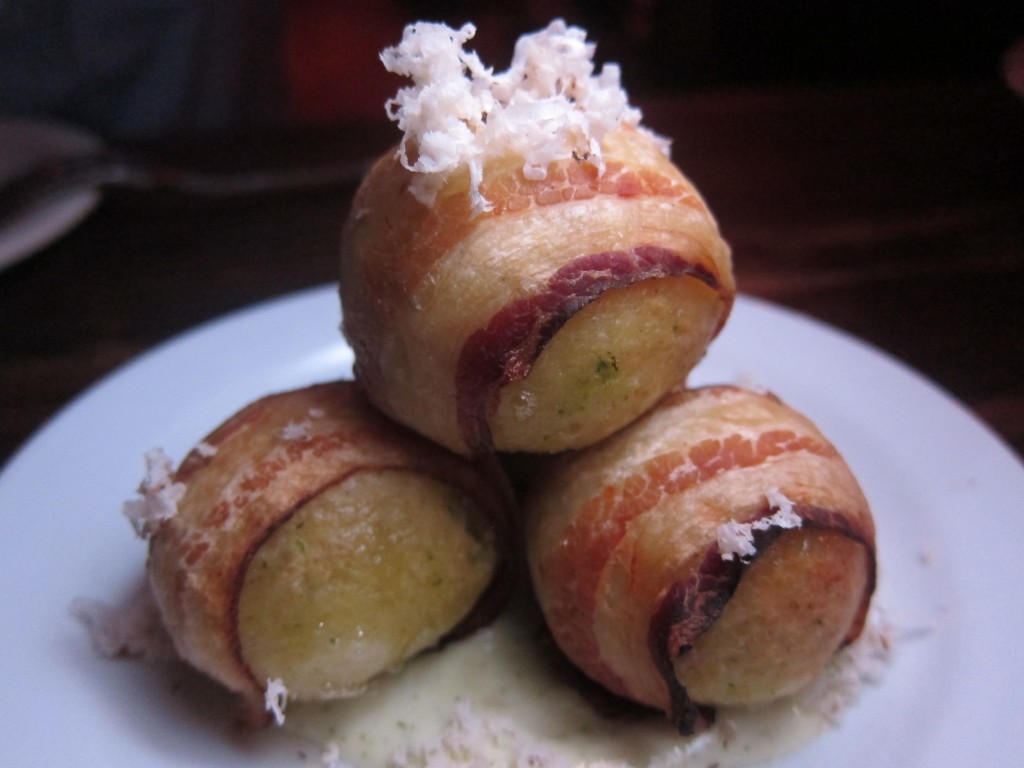 The Gorbals is the ultimate hipster hang.  It's accessed through the lobby of the creepy Alexandria hotel, which is something right out of a horror film and probably haunted.  Inside the dimly lit restaurant, you're safe and warm in the glow of a large open kitchen. The decor is minimal and vintage industrial chic.  Bowler hats, handlebar moustaches or mutton chop sideburns would not look out of place here.  On Thursday nights, a Hot Jazz/Americana band known as The California Feetwarmers blows the roof off the house while Lindy Hop dancers show off their mad swing skills. On other nights, you kind of expect someone to ride through the restaurant on one of those industrial revolution era tall bicycles with the gigantic front wheel and tiny back wheel.
The Gorbals is the Hasidic fever dream manifestation of Top Chef season two winner Ilan Hall and his business partner and childhood friend Natan Zion. The food was originally inspired by Hall's Jewish and Scottish ancestry, a combo that I like to refer to as "Scotch and Rhoda (Morgenstern)." While neither the Jews nor the Scots are known for amazing regional cuisine, Hall's fusion creations are delectably inventive and surprisingly wonderful.
The restaurant's signature dish is Bacon-wrapped Matzoh Balls (pictured above), which Hall clearly had in mind when he famously described his mash-up fare as "old Jewish food that has been date-raped by bacon." Although this irreverent intermix sounds like a joke, it tastes astonishingly good. Hall's creations are not limited to Jewish and Scottish-themed eats and incorporate ingredients from all over the world like uni butter, feta and macadamia nuts. My favorite dishes are the Vietnamese/Canadian comfort concoction of Bahn Mi Poutine, the insanely amazing Lamb Neck with Creamy Oats and, to balance out the richness, the Israeli-inspired salad of Persian Cucumbers, Avocado, Crispy Garbanzos and Sumac. I love a good salty dessert and The Gorbals' Sticky Toffee Pudding with Vanilla Bean Ice Cream and Maldon Salt is incredible. Just like the food, the cocktails are creative and fun, and highly recommended. 
The Gorbals is located at 501 So. Spring St., Los Angeles (Downtown).

If you enjoy Consuming LA, please subscribe, like me on Facebook and/or follow me on Twitter at the top right of this page. And please forward to your friends!