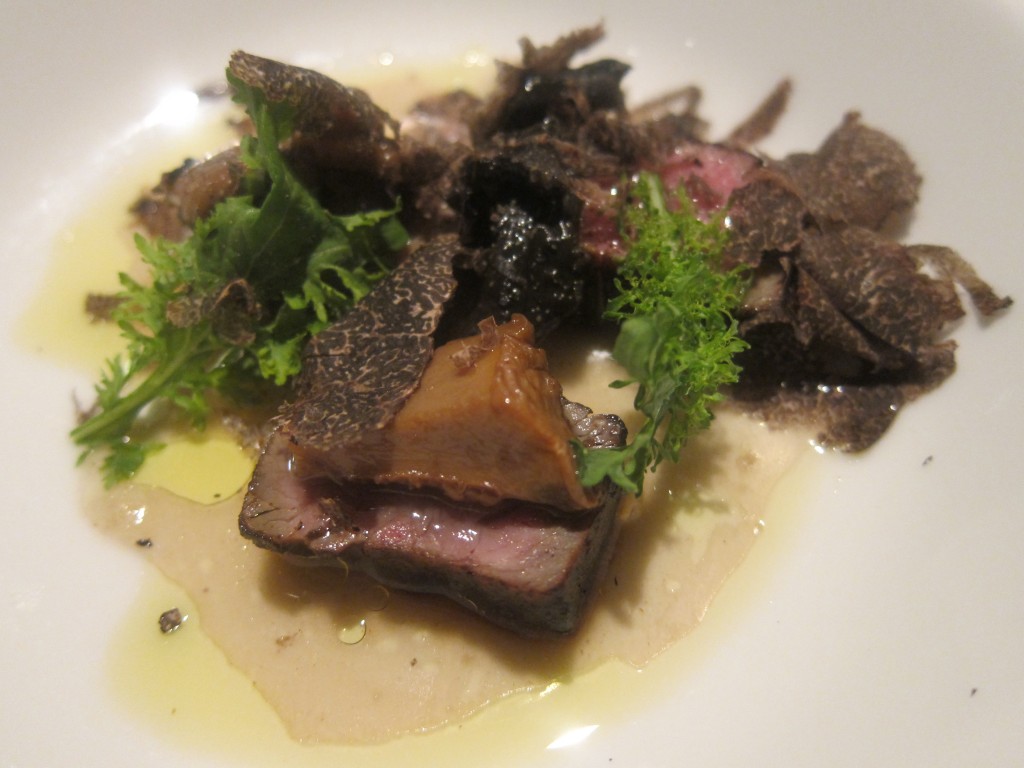 Located in a clandestine room behind an unmarked door at the rear of The Bazaar in the SLS Hotel, Saam offers one of the best and most exciting dining experiences in the city. Here, super-star chef José Andrés has crafted a tasting menu of approximately 22 small plates of whimsy and gastronomical delight, almost all of which do not appear on the menu at The Bazaar. With so many courses, the meal takes around 3 1/2 hours to complete. Service is top-notch; among the best I've ever experienced. Of course Saam is not inexpensive. The cost is $120 per person plus tax, tip, optional wine pairing ($100) and optional shaved truffles ($35-$50 per course). But as with The French Laundry, this is not just a meal. It's an evening of entertainment; a special and unique experience.
Chef Andrés, who trained at the legendary El Bulli in Barcelona, is incredibly creative and utilizes molecular gastronomy and other playful techniques to surprise and wow his diners. There are scallops masquerading as carrots, spherified mozzerella balls which instantly liquify in your mouth, a Vietnamese Bahn Mi sandwich which has been elevated both literally and figuratively, and a Spanish street food favorite that has been turned inside-out. It's all really delicious too. One of the high points of the meal is "Dragon's Breath Popcorn," a puffed corn cake that is immersed in liquid nitrogen at your table, causing smoke to come out of your nose and mouth when you eat it. The desserts are excellent also, especially the frozen Apricot Timbale with Amaretto, and there is a gift of chocolates to take home.
Saam is located in the SLS Hotel at 465 S. La Cienega, Los Aneles (Mid-City near Beverly Hills and West Hollywood). If you enjoy Consuming LA, please subscribe, like me on Facebook and/or follow me on Twitter at the top right of this page. And please forward to your friends!